Where to find Stone Gray Bottles on Mount F8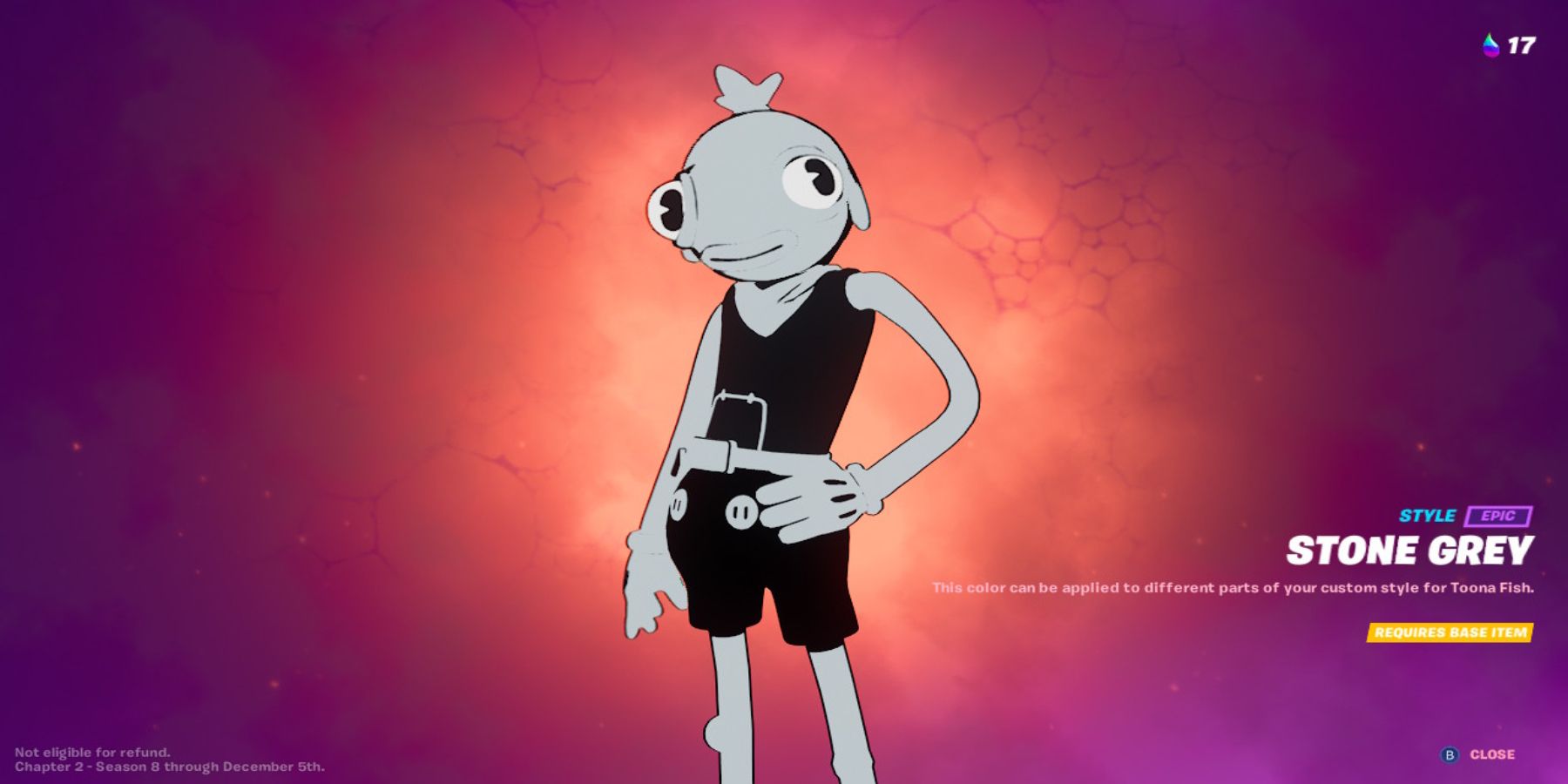 New in Fortnite Chapter 2, Season 8, players can now unlock new styles for the Toona Fish skin by picking up Paint Bottles.
Fortnite Season 8 has started and while many of the island's features remain intact, there are new things for players to do. Like the Kymera skin from season 7, Fortnite Players can now collect Paint Bottles to unlock new styles for the Toona Fish skin. There are many different color combinations to collect for the outfit, and one of them requires players to visit a landmark called Mount F8 to collect Stone Gray bottles.
Location of Mount F8 Fortnite in season 8
Collecting all these bottles is a bit difficult because Fortnite will not tell players exactly where the locations are. As for the location of the landmark of Mount F8 in Fortnite which houses the Stone Gray bottles, players should look near the Misty Meadows point of interest. It's in the southern part of Battle Royale Island. South of the named location is a snow-capped peak that is white in color on the map, called Mount F8.
RELATED: Fortnite Chapter 2 Season 8 Live With New Battle Pass and Carnage
The easiest way to get there is to jump off the battle bus and land right on top of the snowy peak south of Misty Meadows. As this is not part of any major questline in Fortnite, most of the time, the peak should be free of players. It's always nice to have a decent gun or two before you collect the Stone Gray bottles so players don't get killed unexpectedly.
Where to find stone gray bottles in Fortnite
Once players reach Mount F8, finding all three bottles is not a difficult task. The first bottle can be found once players start climbing the mountain – it faces the nearby IO base and is next to a red flag stuck in the snow.
As players reach the top of the hill, the other two Stone Gray bottles can be easily spotted. Players only need to enter the bottle to collect it and unlock the new Toona Fish skin.
How to change the style of Toona fish
From the main Fortnite menu, scroll to the Locker tab

Click the Toona Fish Outfit

Press "Edit style"

Press the right rear trigger to see all unlocked skin colors
Fortnite is now available for PC, PS4, PS5, Switch, Xbox One, and Xbox Series X / S.
MORE: Fortnite: How To Interact With A Roll Over Car To Flip It Up
TikTok Star Digitalprincxss Arrested in Florida
TikTok star, Twitch streamer and adult artist Marrissa 'Digitalprincxss' Cloutier has reportedly been arrested in Lee County, Florida.
Read more
About the Author